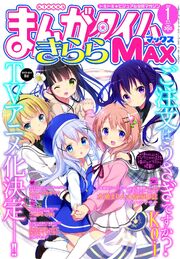 Is the Order a Rabbit? (ご注文はうさぎですか?, Gochūmon wa Usagi Desu ka??) is a 4-koma manga series by Koi, serialized on Hobunsha's Manga Time Kirara MAX. It is licenced by Sol Press in English.
Story
Cocoa Hoto arrives in town to attend high school under a work-study program. While looking for her host family, the Kafūs, she stumbles across the cafe Rabbit House and meets a shy-spoken white-haired girl named Chino.
Characters
Main Characters
The main protagonist of the series. Having moved to the unnamed town to attend high school there, she lodges in the Kafū residence in exchange for being a part-time employee for the Rabbit House cafe.
The grand-daughter of the Rabbit House's founder and master. She is aloof and distant towards others at first but warms up over the course of the series.
A part-time worker at the Rabbit House with a tough-as-nails personality. Despite being headstrong, she has a soft side that enjoys partaking in friend or girly activities.
The sole waitress of Ama Usa An and Cocoa's classmate at her high school. She adores Cocoa.
A part time worker at Fleur de Lapin, who also attends the same high school as Rize and crushes on her.
Supporting Characters
The Kafū family pet. She is somehow the current body of Chino's grandfather.
One of Chino's friends at school.

Megumi Natsu (

奈津 恵

Natsu Megumi,メグ

?

)

Chino's other friend at school.

"Blue Mountain" Aoyama (

青山 ブルーマウンテン

?

)

The writer of The Barista Who Became a Rabbit.

Mocha Hoto (

保登 モカ

Hoto Mocha

?

)

Cocoa's older sister. She visits Cocoa after a year of the latter's homestay.
Minor Characters
Takahiro Kafū (

香風 タカヒロ

Kafū Takahiro

?

)

Chino's father. He is a master of Rabbit House and also as bartender during night.

Rize's Father

Aoyama Blue Mountain's editor.

Chiya's Grandmother
Books
Gallery
Community content is available under
CC-BY-SA
unless otherwise noted.